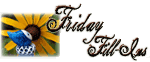 1. Snow is beautiful, and it wouldn't be winter without it.
2. I'm looking forward to the new year.
3. Beethoven is the best composer ever.
4. One of my favorite old tv shows is Star Trek: The Next Generation.
5. I'm done with carpets in the basement. Fake wood here I come.
6. The most enjoyable thing around the holidays is being with family.
7. And as for the weekend, tonight I'm looking forward to ripping up wet carpet–NOT, tomorrow my plans include feeling sorry for myself because my family is gone to Kentucky and Sunday, I want to read.